Hehehe my little man doing some work in Grandma's pebbles. Its actually Charlottes hard hat and all hell broke loose when she saw him wearing it so the search is on to find him his own, lol

I'm going to link up to The Happiness Project hosted by Leigh vs Laundry...I'm fast becoming addicted to these things!!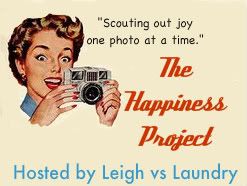 And now I have a before and after:
This is the SOOC which I was pretty happy with but it was a bit dull
So I used Paint The Moon's Lemon and Honey and then I added a texture from Chasing Dreams Photography that I was lucky enough to win a $25 gift card for!
After:
For more Touch Up Tuesday shots head over to Paper Camera :)
I've done a bit of a blog makeover too, I needed a new header and then I saw this funky frame background over at Shabby Blogs and had to have it haha.